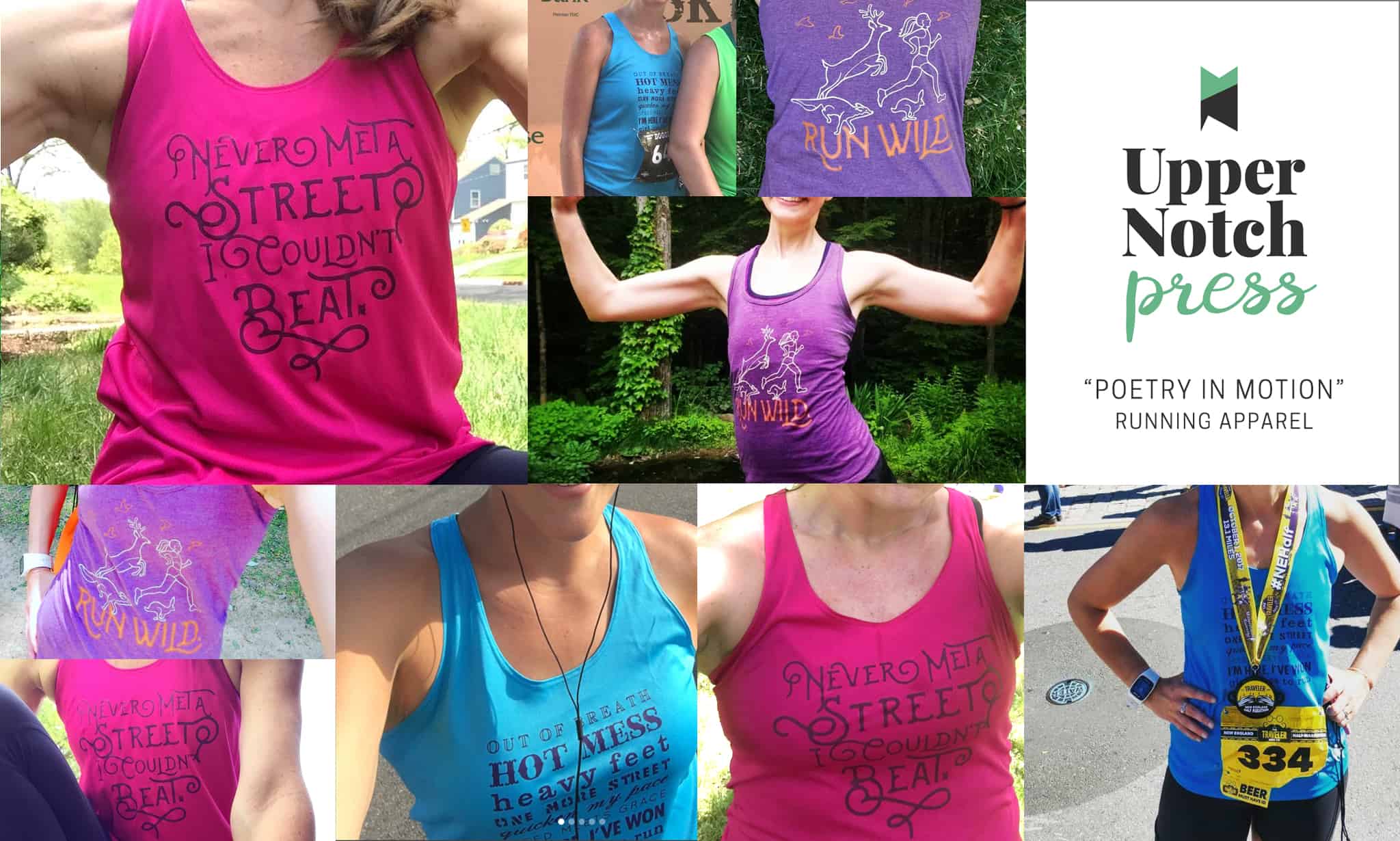 When we're not using our creative skills to increase the value of our clients' brands, we are spending time writing and designing for our sister company (no pun intended). Upper Notch Press is our creative outlet, where we combine original poetry and prose with original artwork to create prints, apparel, invitations, and any other medium we want to explore. We've set up shop on Etsy and have been adding products over the last few months that we're excited to share.
If you follow Upper Notch on Instagram, you've already seen our unique running tanks in action on some awesome #runnergirls. After the debut of our first shirt, a wearable version of our "Girl Loves to Run" print, we received such encouraging feedback from our running friends near and far that we decided to design more. Now two new tanks are available in the Etsy shop (and selling fast—the "Run Wild" tank almost sold out entirely in a local "pre-sale," but we'll be restocking asap), and we're calling the collective line "Poetry in Motion."
The idea behind our first shirt was to create a fitness tank that had a little more authenticity and originality in its mantra (not that we don't appreciate the universality of "will run for wine"!). We wanted to put into words some of the passion, pain, and complete sense of accomplishment that we feel as busy ladies (and to be honest, not "natural runners" by any means—read this post for more on that) who try, whenever possible, to make time to run. And like any project we do, we wanted those thoughts to be beautifully, thoughtfully designed.
In short, we totally love these shirts for running. Here's the scoop on each (the inspiration, the art, the fabric, the fit). We hope they bring a little extra poetic motivation to your day the next time you lace up and hit the road.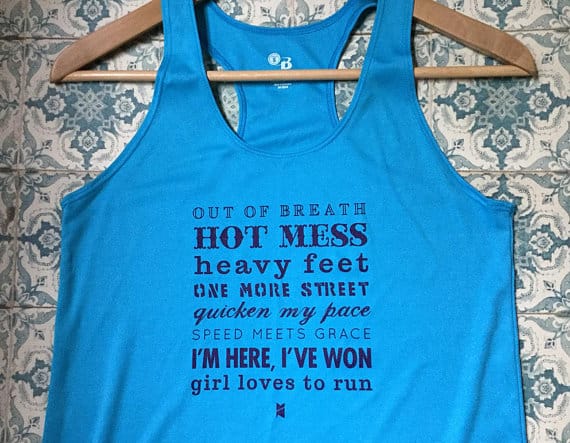 Girl Loves to Run Sweat-Wicking Racerback Running Tank
Our very first tank! After much research and first-hand testing, we chose this this lightweight, moisture-wicking racerback shirt, which quickly became our go-to for running. (The fabric is 100% polyester with moisture management/ antimicrobial performance.) There's no bunching, riding up, or chafing, and it hangs in a loose but flattering A-line fit. The shirt is electric blue with dark purple typography silkscreened on the front.
The poem, which came to be on a really long run, reads: "Out of breath. Hot Mess. Heavy feet. One more street. Quicken my pace. Speed meets grace. I'm here, I've won. Girl loves to run." Shop it here.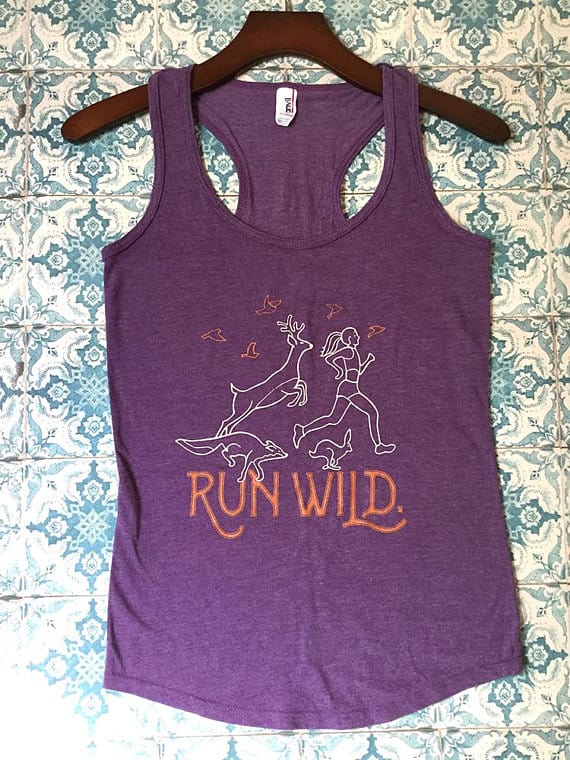 Run Wild Purple Racerback Running Tank
This best-selling running shirt was in the works for a long time. We originally envisioned this artwork for a print, to accompany a different poem, but then inspiration struck to pair it with "Run Wild" as a second running shirt. We drew illustrations of a fox, deer, and rabbit running alongside a woman while birds fly above—a spirited crew doing what nature intended them to…and fast!
The illustrations and retro typographic design are silkscreened in burnt orange and beige atop a heathered purple tank top. It feels like a vintage T-shirt you've had forever. The fabric is a lightweight, soft blend of combed, ring-spun cotton, polyester and rayon with single-needle bound neck and armholes and a double-needle curved bottom hem. It is racerback, like the other shirts, but the body is more fitted and stretchy (if you prefer a looser fit, we recommend sizing up when you order). Shop it here.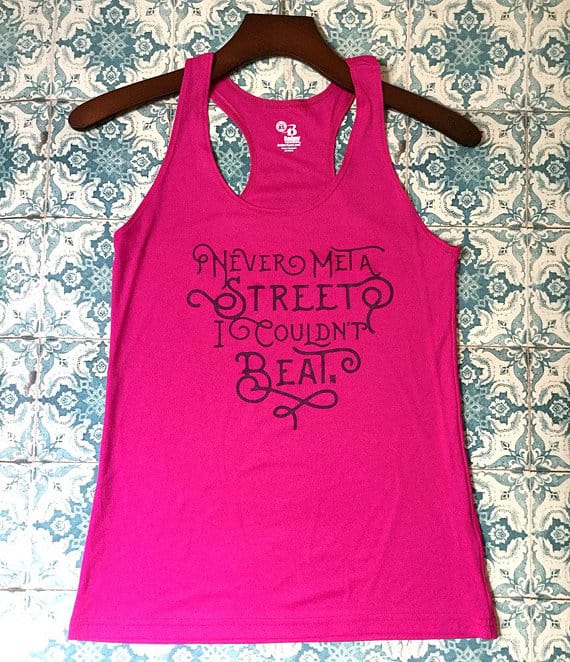 Street Beat Pink Racerback Tank for Running / Walking / Biking
Our third design is a powerful mantra for any workout warrior out there conquering one roads one by one. Once we selected this rhyme (which is actually part of a longer poem we wrote about running), we wanted to find the perfect typography to bring it to life. The elegant, round lines of the letters, silkscreened in dark maroon, play off the strong, punchy words to create a design that is dynamic and beautiful, just like a runner in her element.
Printed on the same shirt as the "Girl Loves to Run" tank, the bright pink fabric is 100% polyester with awesome moisture management and antimicrobial performance qualities—it stays dry while you run and washes up perfectly (we recommend laying flat to air-dry). The A-line body hangs comfortably (no cling) and is extremely lightweight, which is especially nice on hot summer days (for a more fitted look, you may want to order a size down). Shop it here.
SaveSave
SaveSave
SaveSave
SaveSave
SaveSave
SaveSave
SaveSave